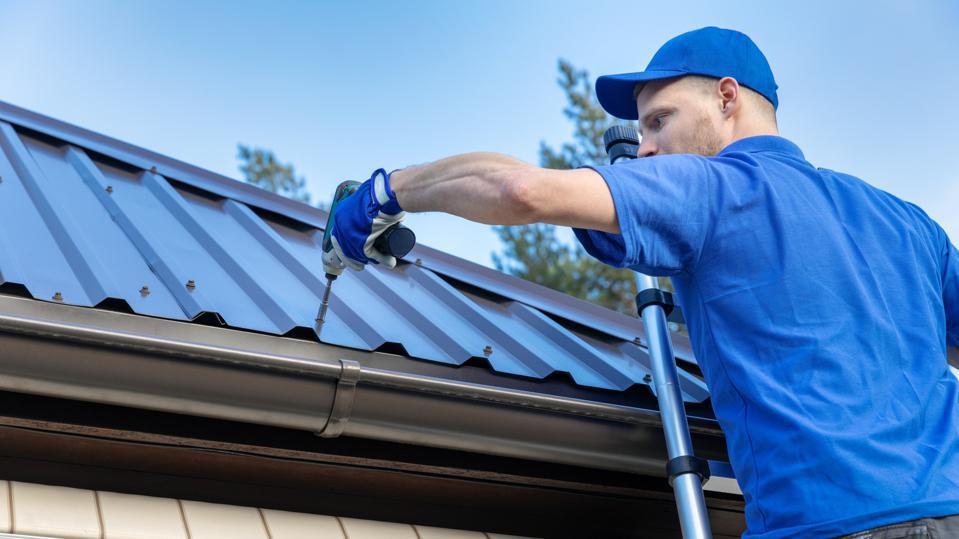 If you want to install a new metal roof, you have come to the right place. At AWS Roofing Central Coast, we specialise in metal roofing and can help you with all of your roofing needs.
If you're looking to install a new metal roof, here are our reasons why metal roofing is the best roofing material for Central Coast Homes.
There are several benefits to using a metal roof compared to a cement tile roof:
Durability Of Metal Roofing
Metal roofs have a long lifespan compared to cement tiles. They can last 50 years or more with proper maintenance and regular inspections.
Modern-day metal roofing is more durable and corrosion-resistant.
Light Weight Option
Metal roofs are much lighter in weight compared to cement tiles. This can be an important factor when installing a new roof on an existing structure, as the structure may need help to support the weight of a heavy cement tile roof. As a result, the roof can be installed faster, which reduces your building cost.
Affordable option
Metal roofs may be more expensive to install initially than cement tiles. Still, they can be a more cost-effective choice in the long run due to their longer lifespan and lower maintenance and installation costs.
Energy efficiency
Metal roofs can reflect the sun's rays, helping keep your home cooler in the summer and reducing energy bills. Cement tiles are less energy efficient in this regard.
It is selecting an insulating material that matches your area's climate and installing it using thermal tape or screws.
Many people do ask if there are extra ways to help keep the roof temertures cooler, and there is an easy solution, we can install these at the same time Whirlybirds
How do whirly birds keep a home cooler?
Whirlybirds, also known as wind turbines or roof vents, are designed to help keep a home cooler by ventilating the roof space. Hot air rises and can become trapped in the roof cavity, increasing the home's temperature.
Whirlybirds draw hot air out of the attic and replace it with cooler outside air, helping regulate the house's temperature.
Here's how they work: The whirlybird is installed on the roof and has a vaned spinning cylinder turned by the wind. As the wind blows, it causes the cylinder to spin, creating a suction effect that draws the hot air out of the attic. The cooled air is then drawn in through vents in the lower part of the house, helping to regulate the temperature inside the home.
Whirlybirds can effectively keep a home cooler, especially in hot, dry climates. They are also relatively inexpensive and easy to install, making them a popular choice for homeowners looking to improve the ventilation in the roof space.
Weather resistance
Metal roofs are highly resistant to wind, hail, and other weather events. They are also not prone to cracking or breaking as cement tiles can be.
The Central Coast often gets hail storms, and metal roofs will not sustain the same damage that will happen to a tile roof.
Easy maintenance and care
Metal roofs are easy to maintain and can be cleaned with a hose or pressure washer. However, cement tiles may require more frequent cleaning and may be more challenging to repair if damaged. They are also more prone to lichen building up, which requires ongoing cleaning.
Recyclable material
Metal roofs are generally recyclable, making them more environmentally friendly than cement tiles, which are not as easily recyclable.
Overall, a metal roof may be more durable, cost-effective, and low-maintenance than a cement tile roof, but the best choice for your home will depend on your specific needs and budget.
Why do Australian homes have pitched roofs
Have you noticed that virtually all homes in Australia have pitched roofs
We often get asked why we don't have more houses with flat roofs as they may be utilised for more usable space.
These are some reasons why pitched roofs work better in our climate.
Climate: Pitched roofs are more common in areas with high rainfall, as they allow rainwater to drain off the roof more effectively than a flat roof. This can help to prevent water damage to the roof and the rest of the home.
Wind resistance: Pitched roofs are also more resistant to wind damage than flat roofs, which can be a concern in areas with strong winds.
Aesthetics: Pitched roofs are often considered more attractive and can add visual interest to a home. They are also well-suited to various architectural styles, including traditional and modern.
Ventilation: Pitched roofs can also provide better ventilation in the attic space, which can help to regulate the temperature inside the home and reduce the risk of moisture and mould.
Overall, pitched roofs are a practical and aesthetically pleasing choice for many homes in Australia due to the climate, wind conditions, and other factors.
Are you ready to hire a roofing company for a new metal roof?
Get in touch with the Best Central Coast Roofing Team –
AWS Roofing
26 Elizabeth Bay Dr, Lake Munmorah NSW 2259
0407 133 435