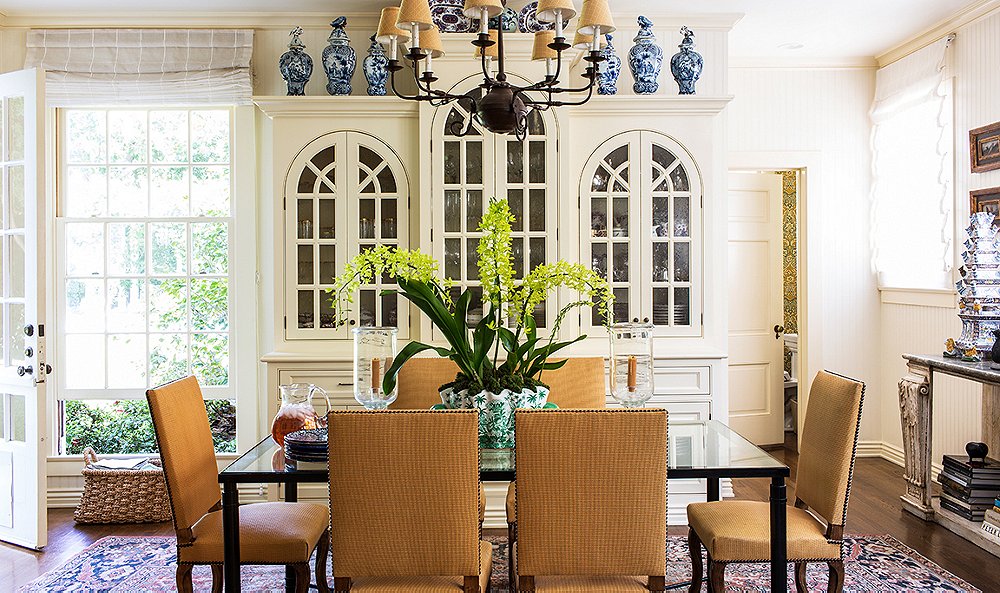 If you have a dedicated dining room in your home, then it can be all too tempting to knock the wall through and create an open-plan kitchen diner. However, this is a modern trend deriving from Swedish and Canadian design and is one which will likely become unpopular again in a few years.
There is something welcoming about eating in a separate space away from the chaos of the kitchen or the relaxation of the sitting room. Creating an inviting dining room is a great idea if you regularly entertain family and friends, enjoy family dinners or just want a quiet place where you can enjoy a meal.
Mix modern with cosy
Modern furniture is all the rage at the moment and because of this, it can sometimes be hard to mix the old with the new. However, there are ways you can do this in your dining room. Sleek and modern spaces look their best when they are balanced with handmade or fabric elements, such as a large, under table rug. Contemporary furniture will look great paired with a cream rug or large neutral curtains, or use plants and colourful art to add a splash of personality to a room whilst still ensuring it fits with your modern aesthetic.
Make the most of any space
If you have a small dining area, then you can maximise and make the most of the space with a round table. Round dining tables tend to fit nicely into all dining rooms and there are no sharp corners to bang into if you need to closely navigate around.
Everyone believes that a large dining room is a good thing to have, however it can be tricky trying to make the room feel warm and welcoming. Sure, you can use a big table, but if you only have a small family, it will just drown out the room when it is in use or feel chilly when it isn't. A good way to combat this is with the colour of your walls. Bark brown walls, used in moderation, will help to create warmth and create a cosy feeling in a large space. Be sure to use a soft rug and layered curtains to help with the acoustics in the room.
Take advantage of windows
If you get a lot of natural light in your dining room, then you will likely be missing out on this if you only tend to use the room during meal times. If you can, fit in a comfy and cushioned window seat to create a cosy new reading spot or quiet space. Crushed velvet furniture and material are popular at the moment and crushed velvet will add a touch of sophistication to the space.
Use your conservatory
Most people who have a conservatory tend to use the space as a garden extension or as an additional lounge. However, what most people don't realise is that if you are wanting to create a more inviting dining space, the conservatory is the perfect place.
You can enjoy the benefits of dining alfresco, even when it gets a little chillier. In the winter, it becomes a nice, cosy space where you can eat lunch whilst looking out over your garden. Use wooden furniture and neutral colours to make the space lighter and more welcoming and be sure that nothing overpowers the space so that the greenery outdoors takes centre stage.